So my first post – ooh exciting!  This also gives me an opportunity to demonstrate some larger modelling projects in OpenSCAD – but since I learnt to use OpenSCAD from Simon I will be leaving those tutorials to him.
Right let's get too it.  This was actually my first woodworking project, a fairly simple TV stand.  I've found quite few project blogs (particularly from the US) claiming to be fairly straight forward – when you have an industrial scale woodworking shop in your garage!  A virtually non-existent luxury for those of us in the UK, especially when starting out.
Tooling
So to clarify simple I mean really simple, with respect to tools I only had:
A power drill – with a rotary sander attachment (which caused more problems than it solved – I ended up finishing the sanding by hand!),
A tenon saw,
A wood rasp (unconventional but I didn't have any chisels at this point!)
and a work bench.
Some of the art of furniture making lies in designing something you can realistically make with the tools you have available – I think we can all agree building a TV stand for £40 becomes a false economy if you have lay out 500 quid in power tools before your first project!  So the designs were revised countless times, from something fairly extravagant with 50 mm diameter dowel support pillars and a floating shelf, into something I could knock together in a weekend while the missus was away!
Design
So the actual working design:
As I said fairly straight forward design:
Dimensions
In regard to overall dimensions, the unit is 740 mm wide x 430 mm deep x 450 mm tall. The shelves are about 160 mm apart, but this was adjustable.
For the main components (all redwood sourced from the local timber yard):
The legs were 44 x 44 mm planed all round (they start out as 50 x 50 mm but you lose some to the planer).
The top is two pieces 215 x 30 x 740 mm.
While the shelves are each two pieces of 215 x 20 x 740 mm.
This was quite a while ago now but the in regard to cost of wood you're looking at around £35-40.  Local timber yards are better value than B&Q/ Wickes,/etc.
Construction
The exploded views help to demonstrate the joints quite nicely:
So quite simply the front and back legs are screwed and glued into a baton (running front to back) to make 'U' shaped supports.  The two top pieces are braced together using aluminium mending plates and then screwed into baton connected the two pairs of legs.  The shelf pieces (for both shelves) are again connected by mending plates, and the corners rebated to allow them to sit flush against the legs.  The shelves are then supported with modesty (joining) blocks.
Finishing
The unit was sanded with various grits of paper up to 240 grit and then finished with several coatings of Danish Oil.
The finished unit: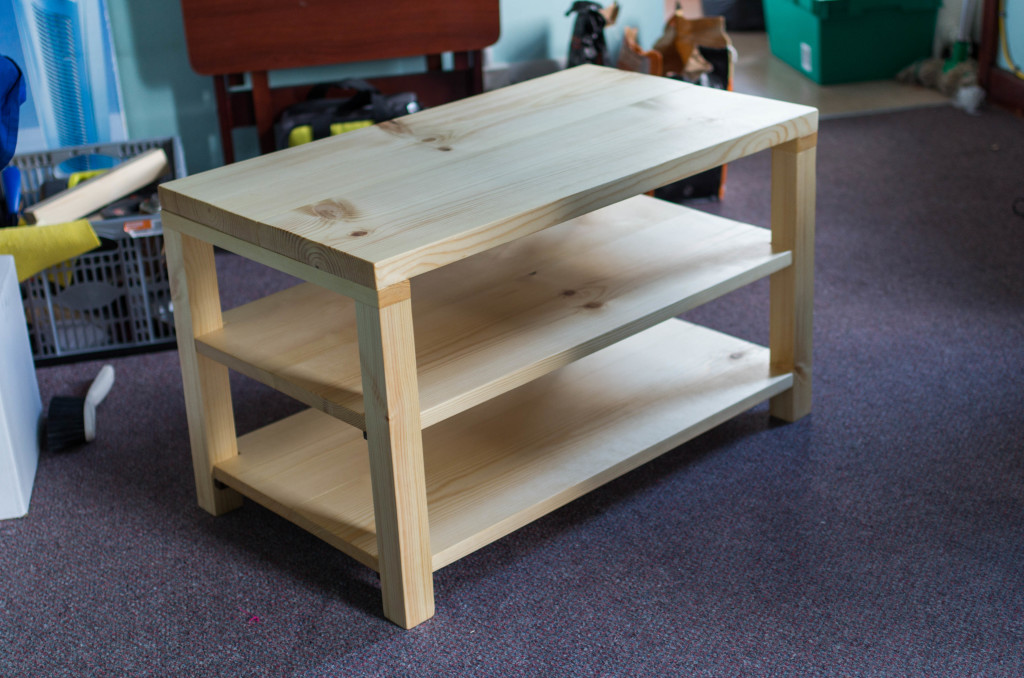 So that's it one home-made and fairly cheap TV Stand and the beginning of my DIY addiction!